Torrent details for "Free TV Shows App - News, TV Series, Episode, Movies v3.04 Mod Ad-Free Apk [CracksNow]"
Language:
English
Info Hash:
82716de38a128db37844c66897c92d43065631c8
Health:
File List :
Main Site :
CracksNow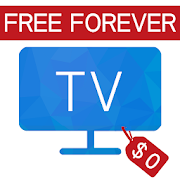 Free TV Shows App - News, TV Series, Episode, Movies v3.04 Mod Ad-Free Apk [CracksNow]
Free TV App gives you the latest news, music, world news, TV series episodes, movies, sports, entertainment, cartoons, travel, learning English, and radio, all in one App! Download Now.
Features:
*News: news app for free, including world news, live news, radio
*Rich content: world news, radio, music, news line, sports, cartoons, talk shows and many others.
*Free: you can use it as a news app, music app, radio or tv app, and it's free to use
***DISCLAIMER***
This is NOT an official app for the various online media services. This is only an unofficial 3rd-party client that complies with their 3rd party API terms of service, and is NOT an affiliated nor related product of those services.Per their API developer terms:
*
https://developers.google.com/youtube/branding_guidelines
- "You do not need special approval to use YouTube APIs or to promote API functionality in your application" provided that the guidelines are followed.
All YouTube videos are provided by the public third-party media service YouTube, and all trademarks and copyrights belong to their respective owners.
If you have any further questions, please feel free to contact us at:
[email protected]
All pictures used in screenshots are used with authorization from: 1. Original TV stations, and 2. Pixabay: "All images and videos on Pixabay are released free of copyrights under Creative Commons CC0. You may download, modify, distribute, and use them royalty free for anything you like, even in commercial applications."
This app has no advertisements
Quote:

CracksNow for the win